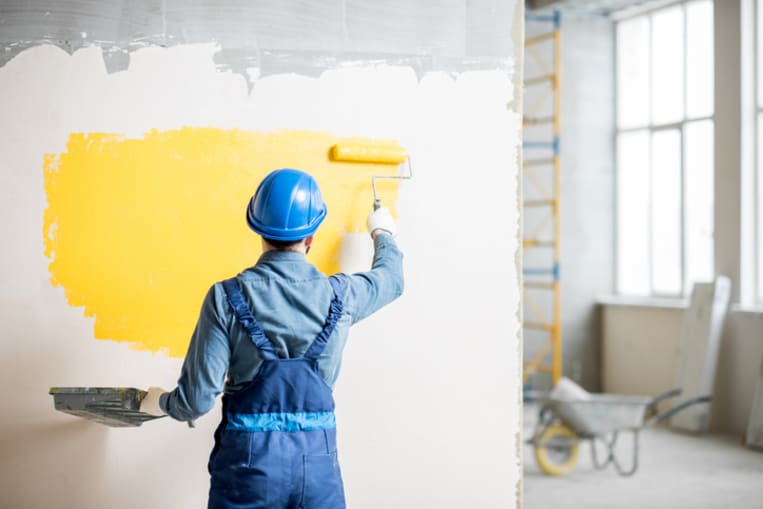 (Getty)
Hiring a professional painter for your next home project could save you time and money in the long run. Professional painters have the tools, skills, and safety equipment necessary to safely give you a beautiful result. Despite the benefits of hiring a professional, quality work and good customer service aren't guaranteed. Be sure to consider the following before hiring a painting contractor.
Have clear expectations. Consider your schedule and end goal before you call a painter for an estimate. When estimating, painters want to know what colors you have in mind, what finishes you prefer, and if you want a specific paint brand. If you aren't sure, painters can make recommendations. In addition, make schedule coordination easier by knowing when you will be available to let painters into your home and when they need to end work each day. If you have the entire interior of the house painted, it may make sense to move out for a few days, as they will be able to get it done more quickly.
Narrow down your search. Check BBB.org, ask friends and neighbors for recommendations, and identify at least three reputable contractors to bid on the job.
Get a comprehensive estimate. Professional painters provide clients with detailed estimates, including a complete breakdown of their costs and schedules. The estimate should incorporate specific costs for labor, materials, paint, travel time (if charged for), and the timeframe in which the painter will complete the project. If you have any questions or see anything missing from the estimate, discuss it with the painter before the project begins. It's much easier to fix an estimate than change your agreement halfway through the project.
Ask the right questions. Asking the right questions will help you understand the painter's experience and what is included in the cost. Some of the following questions might be helpful when you speak to a painting contractor for the first time:
How long have you been painting houses, and how experienced is your painting crew?
How long will it take to complete the project?
What kind of prep work is included in your service, and what will I need to do?
Does your estimate include pressure washing outer walls and caulking and filling cracks?
What kind of paint and how many coats do you recommend?
Who will handle the cleanup after the project is complete?
What happens if paint hits my carpet, roof tiles, or concrete?
Is there a warranty or guarantee on their work if touch-ups or fixes are needed?
Confirm your painter's credentials. Before hiring, ensure the painter has all the necessary, up-to-date permits and licenses your state requires. Ensuring that the painter is licensed and carries liability insurance is important to protect both parties in case of accidents or damages during the painting process or injuries that might occur.
Be prepared to prep. Understand that there are certain things a painter might ask you to do to prepare for the project. For example, you may need to move furniture to the center of the room or completely out of the area. You'll also need to remove paintings, wall décor, switch plates, and outlet covers. Painters may ask you to clean the walls using a damp sponge before they paint. In addition, you'll want to keep any pets out of the way when paint day comes. Talk to your contractor about how much of this kind of prep work you'll be expected to complete.  
Verify the type of paint. Knowing the quality of the materials used ensures the paint job's longevity and quality. Check to see what type of paint will work best for what you need, and have your painter provide expertise on what will produce your desired results.
Ask about the painter's experience. Ask the painter if they have experience with this specific type of project and gain a better understanding of the techniques used during the process. Also ask to review the painter's past projects to get an idea of the painter's style and quality of work.
Watch out for lead. Homes built before 1978 may still be housing coats of lead paint. If this is the case, painters may need to take extra precautionary measures that could affect pricing and the length of the project. It's important for the health and safety of your family that this be done properly, so do not hire anyone who suggests they can take a shortcut around required lead paint removal procedures.
Confirm clean-up details. Most professional painters keep a clean working environment and handle clean-up at the end of each working day and the end of the project. However, discussing this part of the project with the painter before they begin working is always a good idea. Ensure you clearly understand who is responsible for clean-up during each project phase.
Make a payment plan. Never pay in full before the project begins. You may be asked to pay a portion of the fee to begin and installments at certain milestones in the project. Always withhold the final payment until you are completely satisfied with the end result of your painting project and have received written confirmation that all subcontractors have been paid (subcontractors can put a lien on your home if the primary contractor fails to pay them).
Look for the BBB Seal. BBB Accredited painters are likelier to demonstrate a commitment to delivering reliable and trustworthy services. They are dedicated to meeting customer expectations, delivering quality work, and resolving any issues that may arise promptly and professionally. The BBB Seal is The Sign of a Better Business.
The above tips will help you find a painting contractor that is trustworthy and reliable.
For more information
See the BBB Tip: Hiring a Contractor.
Learn more about making your next home improvement project a success.
Avoid getting scammed by reading the article BBB Tip: Home Improvement Scams.
https://hardingsservices.com/wp-content/uploads/2017/11/h-logo-transparent-header.png
0
0
Rob Hilditch
https://hardingsservices.com/wp-content/uploads/2017/11/h-logo-transparent-header.png
Rob Hilditch
2023-09-27 10:21:06
2023-09-27 10:21:06
BBB Tip: Hiring a painter